Why Data Security?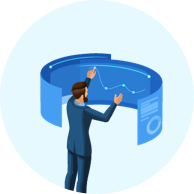 Organizations around the globe are investing heavily in information technology (IT) cyber security capabilities to protect their critical assets. Whether an enterprise needs to protect a brand, intellectual capital, and customer information or provide controls for critical infrastructure, the means for incident detection and response to protecting organizational interests have three common elements: people, processes, and technology.
Data Security Solutions
• Cloud data security – Protection platform that allows you to move to the cloud securely while protecting data in cloud applications.
• Data encryption – Data-centric and tokenization security solutions that protect data across the enterprise, cloud, mobile, and big data environments.
• Hardware security module — Hardware security module that guards financial data and meets industry security and compliance requirements.
• Key management — Solution that protects data and enables industry regulation compliance.
• Enterprise Data Protection – Solution that provides an end-to-end data-centric approach to enterprise data protection.
• Payments Security – Solution provides complete point-to-point encryption and tokenization for retail payment transactions, enabling PCI scope reduction.
• Big Data, Hadoop and IoT data protection – Solution that protects sensitive data in the Data Lake – including Hadoop, Teradata,  and other Big Data platforms.
• Mobile App Security – Protecting sensitive data in native mobile apps while safeguarding the data end-to-end.
• Web Browser Security – Protects sensitive data captured at the browser, from the point the customer enters cardholder or personal data, and keeps it protected through the ecosystem to the trusted host destination.
• eMail Security – Solution that provides end-to-end encryption for email and mobile messaging, keeping Personally Identifiable Information and Personal Health Information secure and private.